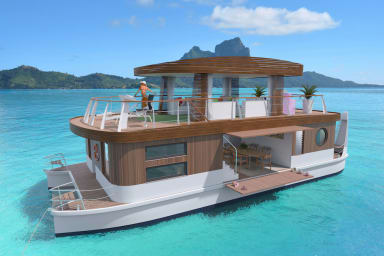 A unique eco friendly solar catamaran in Bora Bora, the perfect location to experience the on the water lifestyle.
Grand Opening April 2023
Inspired by the ancient Polynesian canoes and way of life, this new born eco-friendly catamaran adds a green touch to the blue shades of the most beautiful lagoon in the world. Bora Bora, also known as the Pearl of the Pacific, stands as a true jewel at the heart of the Polynesian triangle. Just as a motu (little islet shrouded with coconut trees) seems to float on the lagoon, Honutea, the ELYT Charter Tahiti "overwater villa" will allow you to enjoy salt water life like never before in comfort & style.
Honutea by ELYT Charter Tahiti is designed & built in Tahiti. It represents a new generation of custom catamaran focused on sharing the Tahitian overwater way of life at its best.
Honutea by ELYT Charter Tahiti uses modern construction technics & technology, with space in mind, provide the comfort and safety that today's explorers are also looking for. Sun sustains life and it also powers ELYT:
. Solar panels and lithium batteries take care of propulsion, hot water, lights and household equipment.
. No diesel engine means total silence, nos smell and no pollution.
. In-hull waste water treatment system.
The catamaran offers remarkable on board space deployed on two decks of nearly 60 m² each for a total living area of almost 120 m². The boat measures 6,7 m high, 6,6 m wide and 15,6 m long.
With a maximum occupancy of 8 passengers, Honutea by ELYT Charter Tahiti is ideal for 3 couples or 2 couples and 4 children or you can decide to enjoy the catamaran just for yourself and loved one. The first bridge includes 4 cabins, 2 bathrooms and a large central living room & kitchenette.
The 360° upper deck welcomes the skipper post, a sun terrace, a large and comfortable lounge area, a bar and an outdoor barbecue kitchen. From everywhere, you will admire the lagoon and have a breathtaking view over the iconic Mount Otemanu. Combined sofas and low tables convertible into 2 large day beds, you will be excited to use this outstanding space for unique nights under the stars. Indeed, this area can be customize to arrange your special experiences such as romantic dinner or intimate wedding ceremony.
The most remarkable design feature of ELYT remains the two large side openings that add overwater balconies to the main living area, for more space and an even better view.
Equipment & facilities:
Equipped kitchen
1 cabin with 1 king size bed (180×200)
1 cabin with 1 queen size bed (160×190)
1 cabin with 1 double bed (140x160)
1 cabin with 1 bunk bed
2 shared bathrooms (1 sink, shower and wc)
360° view rooftop lounge
Open living room and dining area
Recreational amenities:
Barbecue
4 inflatable SUP boards
Snorkeling gear
Sound system
Flat screen TV
USB ports
Free Wifi pocket
Rental price also includes:
7/7 day assistance by email or phone
Our concierge will come and visit once a day
Toiletries
Bed & bath linens
Grocery and detergent essentials starting kits
Solar powered license free tender
Embarking, disembarking & moorings:
The solar catamaran will be moored and secured at all times during your stay.
In any cases the ELYT staff will welcome you directly at the airport or at any other location in the island of Bora Bora if you were previously accommodated in a hotel for example. The boat transportation to one of our dedicated moorings will be an additional fee not included in the rental of the catamaran. The choice of the mooring will depend on the weather conditions and will be set before your arrival.
Our staff will welcome you on board and will review with you the catamaran equipment, appliances and amenities. There will be a briefing before you set off during which our team will go over the safety procedures.
When you charter the catamaran you will be in perfect autonomy. A license free boat tender will allow you to connect the main island of Bora for shopping or to reach the main attractions. But if you prefer, we can also arrange boat transfers to the main island for restaurant dinners or land activities. This will be charged at extra cost.
For a completely worry-free vacation and if you wish a captain and experienced staff during your stay, this may be arranged prior arrival and this service will be charged in addition to the rental of the catamaran.
During your stay, we recommend you to book a day cruise. A captain will join you and come on the catamaran and cruise the catamaran to the second moorings located in the other side of the island. This little cruise around the island is a true activity itself. This will be at extra cost.
For your convenience and few days prior your embarking date, we will provide a provisioning shopping list from which you will chose your groceries and beverages in order our team pre stock, at extra charge, the catamaran for your stay.
** Pictures illustrating the catamaran are non contractual and do not engage Tahiti Homes nor ELYT Charter Tahiti responsibility in any way.**
+ More
Less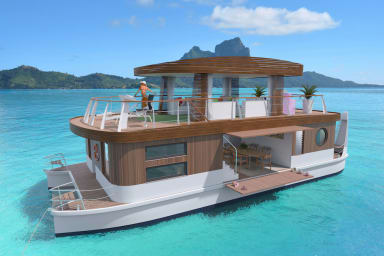 The Space
Accommodates: 8
Bedrooms: 4
Bathrooms: 2
Property Type: Boat
Check-in: 15:00
Check-out: 11:00
---
Amenities
Information about property sustainability

Sustainability projects support